Podcast: Play in new window | Download
Subscribe: RSS
Laura Cooke and Chris Cooke

Twitter: https://twitter.com/PositiveFoundry
URL: http://www.positivefoundry.com/
FB: https://www.facebook.com/PositiveFoundry/
Instagram: https://www.instagram.com/positivefoundry/
This month's guests are an amazing team working hard to help people flourish with the power of positive psychology.
In their own words:
Our paths are unique but our journey is the same. We believe in a better, healthier, and more engaged society. When we improve the overall wellbeing of each employee, we help organizations thrive and create a better world.
We have spent thousands of hours bringing together the best research behind human motivation, positive psychology, neuroscience, and energy management into a program for individuals and organizations who are ready to thrive.
We believe companies that flourish, in today's marketplace create value not just in financial terms, but in human terms. They enhance the lives of their employees and their families, their customers, their owners, the communities within which they operate, and the world at large.
Some of our conversation topics:

The difference between a scarcity and abundance mindset:
A scarcity mindset is the belief that there will never be enough, resulting in feelings of fear, stress, and anxiety.

On the other hand, an abundance mindset flows out of a deep inner sense of personal worth and security. It's grounded in the belief that there is more than enough for everyone.
The Observation bias where we see the things we want to see or that we are trained to see in our own world.
One of my favorite topics active constructive responding which I first learned from Positive Foundry. It relates back to how to listen more effectively and how to engage in a conversation and not just steal it for yourself.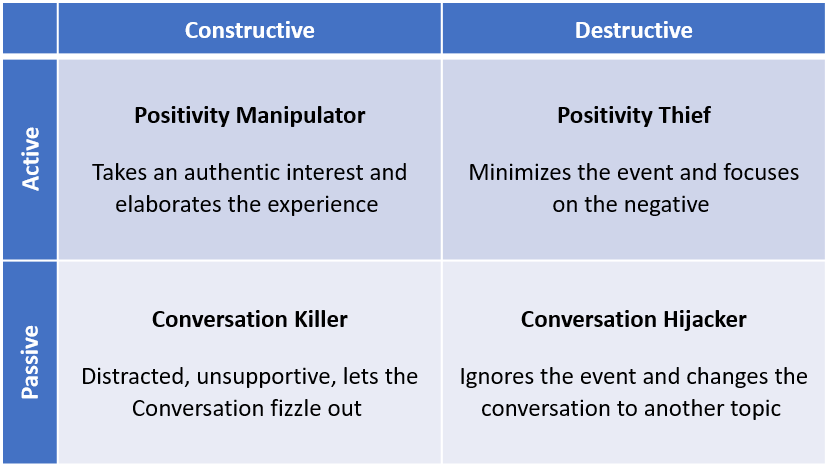 We talked about the loneliness epidemic in America and how it is increased with the lock downs that are in place. We even came up with a quick game to help us all feel less alone #hallwaytag.
And for all Ohio Teachers, they have offered a mindfulness program just for you…https://www.surveymonkey.com/r/OHTeachers2020